Pests Control For Hospitality
5 Star Service and Hundreds of Happy Customers in:
Bedfordshire, Hertfordshire, Buckinghamshire & North London
Being Aware of Pest Control
Pest infestation is commonplace and affects people and properties daily. Pests can be either a nuisance or pose a major operational risk to your business. Aside from the inconvenience, an infestation can have a major impact, not just on your bottom line but also on your reputation.
Why is Pest Control so important?
Pests don't discriminate: any size of business, operating in any type of industry can be vulnerable. But in the food industry you have to be more vigilant. Pests mean dirt, damage and disease. Ultimately they cost you money! Birds, insects and rodents not only carry bacteria but they can also cause damage to your premises. Rats and mice for example, are known to gnaw through not just dried goods but also insulation, electrical cables and even pipes!
Food Hygiene Regulations
As the restaurant Manager or Owner, the Food Safety Act, 1990 and the Food Hygiene (General) Regulations 1995, insists that food premises are kept as pest free as is practicable. Failure to do so can result in a fine (up to £20,000 for each offence) or even a prison sentence for serious offences. And prosecutions make headlines! Bad press leads to loss of custom and loss of business.
Working with a specialist will often stop an infestation before it takes hold saving both time and money in the long term. As a pest control service provider, we offer bespoke, planned and contracted pest control solutions. Our Contracted Service takes the heartache out of pest control by ensuring that the restaurant is compliant with the Food Standards Agency guidelines.
Area Pest Control are:
Accredited British Pest Control Association (BPCA) members

National Pest Control Technicians (NPTA) members
Professional Register of Managers and
Pest Technicians (PROMPT) members

RSPH Level 2 Award in Pest Management

CHAS Accredited
All of our services are carried out by in-house teams and for added peace of mind.
All of our work is:
Carried out by certified (BPCA) technicians
Carried out to quality standards
Fully accredited
Insured and guaranteed
Counting the Cost
Our contracts are designed with you in mind and we work hard to ensure that you are getting the best possible service by providing:
Pre-arranged appointments
Routine visits at a time to suit you
Looking for more information and pricing on pest control contracts?
Also, we have a great resource to help you with external and internal auditing
Contact Area Pest Control today for advice, service and a solution to your pest problem.
Want to know more about our pest control service? Request a call back.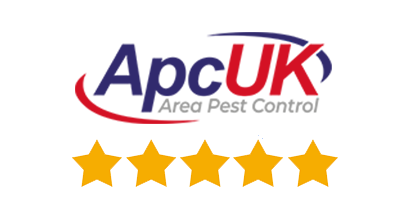 We have found Daniel and his teams' advice and support invaluable; we have been helped with our Food Hygiene Ratings on both the bakery and restaurant.
I would highly recommend the pay as you go pest control service, it has helped us to stay compliant and manage costs.
The Bakery & Sapori Del Sud
As a pest control service provider, we offer bespoke, planned and contracted pest control solutions.
Efficient and effective pest control service with a fast and reliable response from trained specialists.
Trained Specialists
All our pest controllers are BPCA certified and trained to resolve your pest issues safely, quickly and discreetly.
Fast & Efficient
Choose us for a professional, courteous and efficient service and to provide you with advice on prevention and control of pests.
Effective Solutions
Innovative and bespoke solutions that resolve your pest problems quickly and effectively.
Customer Satisfaction
We aim to ensure that every one of our customers is totally happy with the service received.